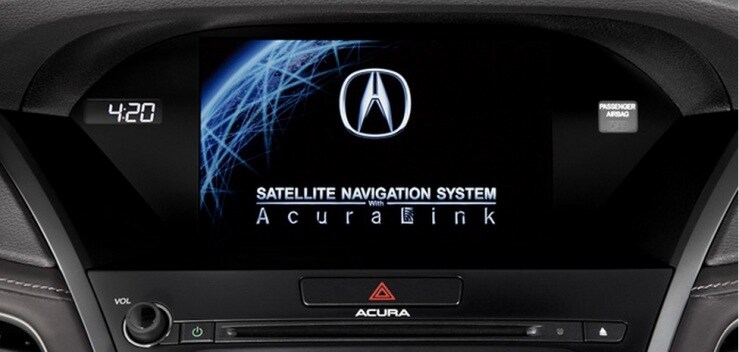 AcuraLink puts you more at ease knowing that almost everything you need is just a push of a button away!
Available to new MDX, RLX, and TLX models with navigation, the AcuraLink™** connectivity system offers an unprecedented combination of technology and convenience. Using both embedded two-way communications and web-enabled devices, AcuraLink™ curates a truly digital experience with your Acura.
Perfect Pairing
Pair AcuraLink™ seamlessly with your iOS 5 or higher or Android 2.3 or higher device using the AcuraLink™ Streams app, and get immediate access to thousands of media streams on the go. Everything from your favourite music, internet radio, podcasts, audiobooks, even your own Facebook and Twitter accounts.
Live Concierge Support, 24-7
AcuraLink™ Concierge representatives provide a level of in-vehicle service that exceeds expectation. They are equipped to assist in everything from business matters to personal needs. Call on them to dictate, reserve a table, or book a last minute flight. 
Everything your AcuraLink™ Concierge can do is compatible with your vehicle's advanced digital ecosystem. They can send directions directly to your vehicle's navigation system or a boarding pass straight to your smartphone.
Acura Link- Assist
Roadside assistance and emergency response are a touch away with Assist services from AcuraLink™**. Press the Link button in your vehicle or on your smartphone to speak with a live agent 24 hours a day.
Always On.
Your vehicle constantly monitors critical telemetry like airbag status, GPS location and - most critically - collision sensor activity. If an airbag ever deploys, the vehicle automatically sends an event report to the AcuraLink™ response center. (Cellular connection required.)
Automatic Emergency Response
When the AcuraLink™ response center receives an event report from your vehicle, live Agents respond immediately- calling your vehicle and dispatching fire and police to your location. Agents will stay in contact with you through the vehicle's onboard Link / Assist system. (Cellular connection required.)
Thieves, watch out!
If your vehicle is ever stolen, AcuraLink™ agents can use the same vehicle telemetry technology to direct authorities to your vehicle. (Cellular connection required.) 
Maintenance Made Easy
With AcuraLink™, your instrument cluster has a double life: its classic role in the vehicle and new existence online. You can log into it anytime for a real-time look at vital systems, including tire pressure status, battery condition, fuel and odometer reading. You can even run diagnostics that can help you or a mechanic troubleshoot issues, all from your smartphone, tablet or Desktop computer.
Acura Link is the perfect companion, always ready and reliable to handle any situation while you're enjoying the comforts of your Acura vehicle.
Date Posted: September 12, 2014